Seminar of prof. B. Civalleri, Universita' di Torino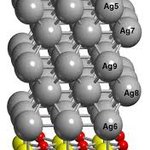 Institute of Physics and International Doctoral School of TUL are inviting to a seminar:
"Large scale hybrid HF/DFT calculations for solids with the CRYSTAL code"
Bartolomeo Civalleri, Dipartimento di Chimica - Universita' di Torino
Date: 24 Nov 2016
Time: 12.15
Place: Institute of Physics, ul. Wólczańska 219, ARENA MAGICA
The seminar will focus on computational quantum chemistry methods used for large-scale modeling of crystals, solids, new materials, polymers, and processes taking place on the surface.
Prof. Civalleri is one of the founders of quantum computation package CRYSTAL and a world recognized expert in the field of quantum simulation of solid.

Organizers:
dr hab. Jolanta Prywer
Institute of Pysics TUL
dr hab. Katarzyna Pernal
Institute of Physics TUL
International Doctoral School of TUL